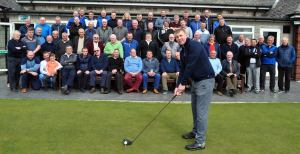 We have a vibrant and friendly Mens section at Welshpool, with competitions held every weekend of the year which are always well supported, as well as the ever popular annual Captain's Away Day.
During the winter months we organise a Winter League on Saturdays, and on Sundays there is the chance to play in Rabbits & Tigers, whereby members with low handicaps are drawn to play alongside those with high handicaps, which is a good way for any new members to get to know others quickly, and enjoy a chat and refreshments in the Clubhouse afterwards.
We are an active member of the Montgomeryshire League, with both home and away matches played regularly throughout the summer months – Welshpool won the League in 2018.
Our members participate regularly in competitions organised by the Mid Wales Golf Association, whereby they are able to play at other clubs within the Alliance at least 5 times a year.
We also enjoy reciprocal golf arrangements with other local Golf Clubs, whereby members are able to play at designated times for only £15.